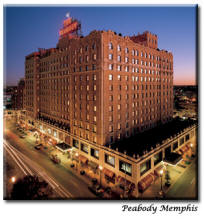 PEABODY MEMPHIS
149 UNION AVENUE - Memphis, TN

For More Than 130 Years, The Peabody Has Welcomed With Open Arms Both Visitors And Newcomers To This Great City. From The Famous Duck March In The Grand Lobby To The Four Award Winning Restaurants, The South's Grand Hotel Has Charmed Its Guests With Unqualified Luxury And True Southern Hospitality. The Peabody's Rich History Is A Product Of Long-standing Tradition



MEMPHIS
The cotton-trading capital of the Delta, MEMPHIS , perched above the Mississippi two hundred miles west
of Nashville and three hundred south of St Louis, is one of the great destinations of the South. Visitors come from all over the world to celebrate the city that virtually invented blues, soul and rock 'n' roll, as well as to chow down in the unrivaled barbecue capital of the nation. A visit to Memphis, the home of the Sun and Stax record labels, with its frequent festivals and vigorous nightlife, feels like an invitation to share in a genuine and
enduring local culture.