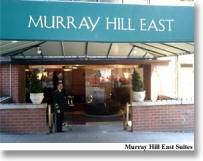 Murray Hill East Suites
Murray Hill East is a charming,
first class, all suites property. Situated on tree-lined 39th Street in the heart of the historic Murray Hill district of Manhattan, the Murray Hill East Suites is the perfect destination for your next trip to New York.
An excellent choice among the city's upscale accommodations,
Murray Hill East offers
spacious suites and attentive service from their friendly staff.